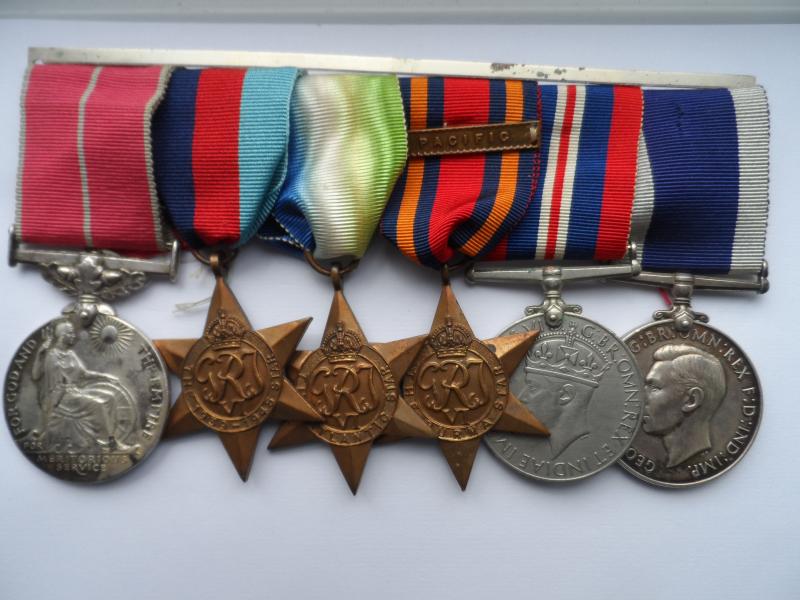 A FINE BRITISH EMPIRE/LONG SERVICE GROUP OF SIX TO BOURKE-42-ROYAL MARINE COMMANDO-FOR DISTINGUISHED SERVICES IN SOUTH EAST ASIA
British Empire Medal (George VI) Named to:
A/ S M EDWARD BOURKE R/M PO/X31
1939/45 Star, Atlantic Star, Burma Star with PACIFIC clasp,1939/45 War Medal and Royal Navy Long Service and Good Conduct Medal, to: PO.X.31.E.BOURKE.SGT.R.M.
Medals about very fine and better, the B.E.M. has contact wear, and the naming is engraved on a pre-prepared ground and struck on a thinner than usual flan, as is sometimes seen on B.E.M's of the period.
B.E.M. London Gazette 11th June 1946:The King has been graciously pleased to award the British Empire Medal(Military Division) to the undermentioned for distinguished services in the Far East: Colour Sergeant (Acting Sergeant Major) Edward Bourke R.M.;PO/X31
Served with 42 Royal Marine Commando.
He was awarded his Long Service Medal in 1941.
Code: 52939